New Mexico Vine & Wine Society- The Grapevine
by Jon & Dolores Chavez

In past years, Tome, New Mexico has been know for is vast wine production. Wine concepts were brought by Juan de Onate in 1598 and continued in the region for years, until the floods devastated and destroyed the industry in 1943. Wine production never really recovered in Valencia County until this past year when Camino Real Winery opened its doors on December 15, 2012. Founded by Jon and Dolores Chavez, the vineyard and winery sits at the base of historic Tome Hill in beautiful Valencia County.
Bringing new business to old ground brought much success to its first year. Camino Real Winery has participated and placed in several different wine competitions winning 15 medals throughout 2013 and 2014. One such event was the recent Fingerlakes International Wine Competition in New York, where Camino Real Winery received one gold and two silver medals, paying homage to the quality and notable presentation to New Mexico wines.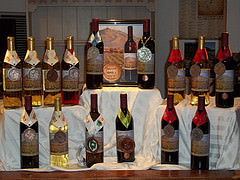 Camino Real Winery is a family owned and operated vineyard composed of 4 acres with 2,400 vines. Those vines include various types of New Mexico climate appropriate grapes such as Chambourcin, Leon Millot, Golden Muscat, Isabella, Crimson Cabernet, Brianna and Chardonelle. The winery offers a diverse wine menu. Favorites include award winning Cham- bourcin, Red Zinfandel, Vino de Tome, Reserve Riesling, Onate Gold and their ever popular Cranberry Mead. Being an environmentally conservative vineyard, Camino Real Winery has implemented a watering system that has a low impact to natural resources. Bringing quality wines to the market is the main objective of the winery. "We pay particular attention to climate changes, quality and health of our vines. Those factors should be top priority when the desired result is a well produced award winning wine" stated Owner, Jon Chavez. Besides producing quality wines, a secondary mission of Camino Real Winery is to bring more tourism to Valencia County.